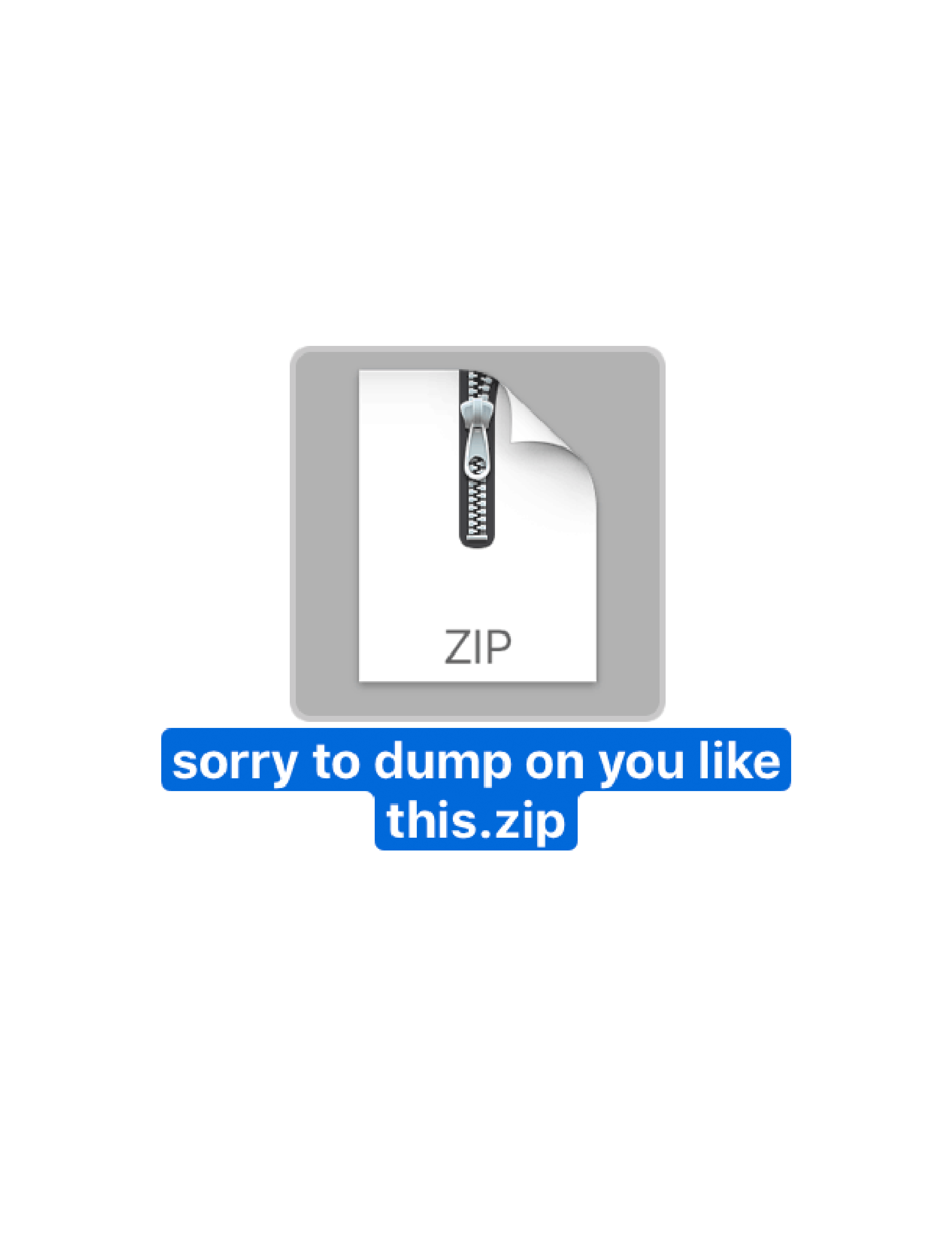 Sorry to dump on you like this.zip recirculates the artist's pornography collection and love letters. 1,860 jpegs tell a story filename-by-filename of love, lust, heartbreak, and banality from emails and text messages dated 1999 to 2015 — the same years when Clary was actively downloading porn. (2015-2017)

Net art
Performance
Video
Photography
Books
Edition

Rhizome commissioned the zip file to inaugurate The Download. Contributing editor, Paul Soulellis wrote, "Again and again, the work asks us — now that we've downloaded — is it ours? Who do we decide to keep or discard through time? These stories are an offering of sorts: characters once loved, now staged as daddies and bears, cigars and cocks. The object-files of Sorry to dump on you like this.zip travel through networked relations, but settle into hard drives like angry ghosts."
Download the zip
Read the essay
Library of the Printed Web commissioned Clary to version the zip file into a print-on-demand zine. First the artist performed the zip on his desktop. Downloading. Opening. Reading. Sorting. Dragging. Previewing. Resizeing. Cleaning up. And trashing the entire archive causing the computer to crash. Then he choose 72 screenshots from the videos to create a new narrative for the zine.
Buy zine
Spreads from the zine were enlarged and editioned into photographic prints. Here installed in Berlin for the exhibition Adult Material, co-curated by Andreas Schmidt and David Evans.
View exhibition
Paul Soulellis used a layout from the zine as the center spread for his Printed Web 4 — seen here in the collection of the Museum of Modern Art Library at the head of the table. Also exhibited at the International Center of Photography for Charlotte Cotton's exhibition Public, Private, Secret.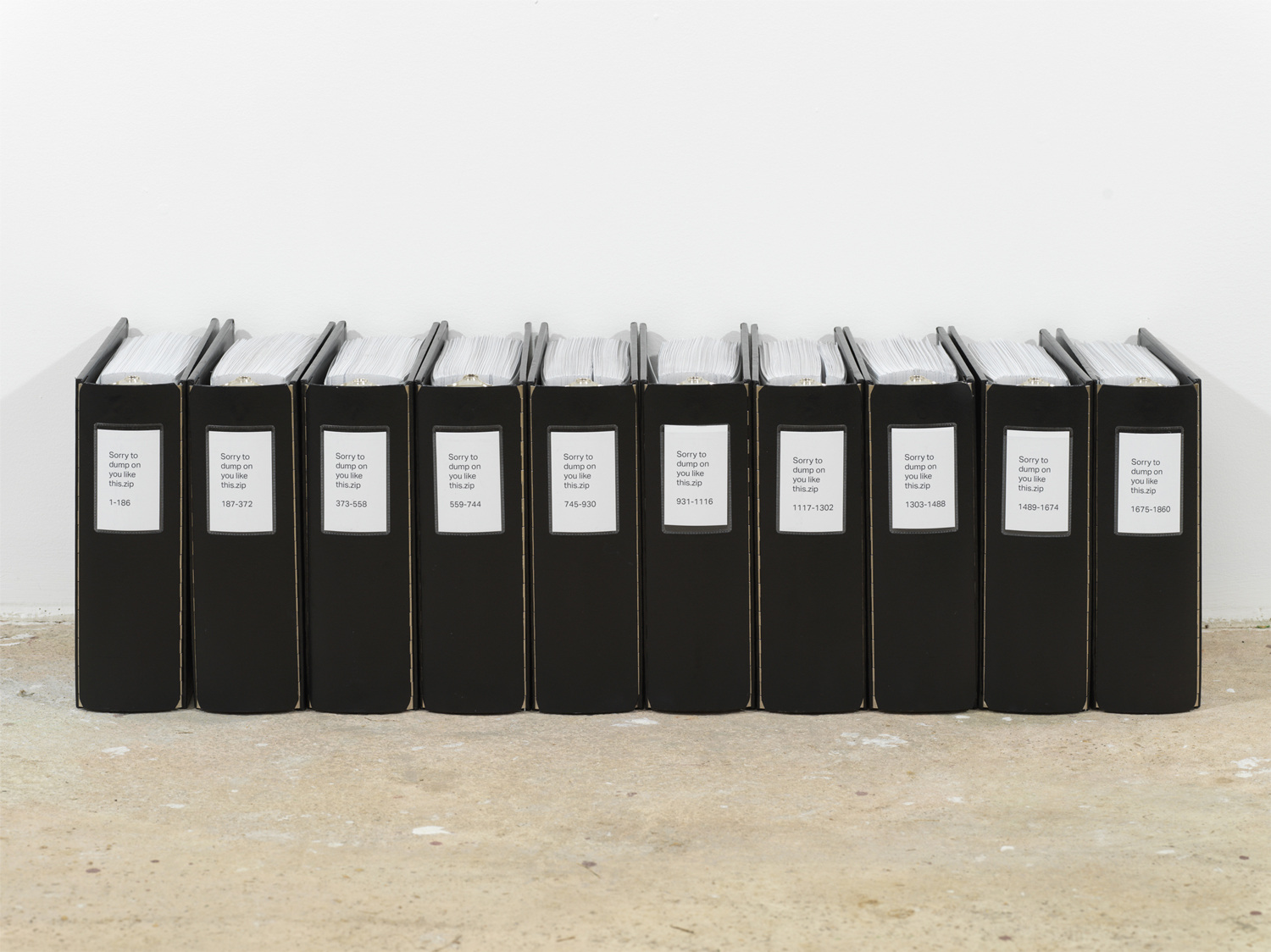 Each jpeg icon in the zip was printed onto a sheet. The sheets were inserted into plastic sleeves and collated across 10 binders. Clary sells individual sheets to disrupt the master narrative and circulate printed jpegs. The binders were used in several performances. For Re: Art Show in Brooklyn they were placed on music stands and installed in 10 rooms. A mic and speaker accompanied each book. The audience was asked to browse, read, and listen. By the end of the exhibition most of the binders had intentionally split open — spilling jpegs onto the floor.
Soulellis and Clary have read from the zip file for The Classroom, NY Art Book Fair, MoMA PS1, Queens; Conceptual Poetics Day, MISS READ, Berlin; Zine and Self-published Book Fair, Baxter Street Camera Club, New York; and WordHack, Babycastles Gallery, New York.
Listen to reading
As a final act the zip file was saved onto a metal thumb drive and then intentionally rusted. The USB comes with a warning, "connecting it to a computer or other electronics may result in an excessive electric current to pass through the network and may potentially cause damage, overheating, fire and/or explosion."